As an actor, Kamal Haasan is an epitome of cinematic brilliance and king of expressions. His contribution to Indian cinema in the form of his many avatars in movies have made way for revolutionary thoughts and futuristic experimentation.
Not only did Kamal Haasan revolutionised different aspects of filmmaking, but he also made sure to preserve the rich culture and traditions of Tamilians by incorporating them as an element in his movies. Let's take a look at the six movies Kamal Haasan brought Tamil arts and traditions to the mass audience:
1. 'Mirudhangam' in Apoorva Raagangal
Did you know, Kamal Haasan actually learned to play Mirudhangam for this movie? A socially unacceptable movie beyond its times, exploring love between individuals with extreme age gaps. His love and frustration merge with the rhythm of the mirudhangam and seek the approval from his beloved Sri Vidya (an older woman). One of the finest movies of Ulaganayan and take a look at how he plays the mirudhangam:
2. 'Kabbadi' in Mahanadhi
'Mahanadhi' translates as the Great River in English and one of the most successful and critically-acclaimed films of Kamal Hassan. The revenge drama is the last place you would expect any elements of Tamil traditions, but Kamal managed to incorporate the vibrant celebration of Thai Pongal along with the infamous 'Kabbadi' in a song during the happier times of the beautiful family before it turned ugly. Take a look at the song here:
3. 'Jallikattu' in Virumaandi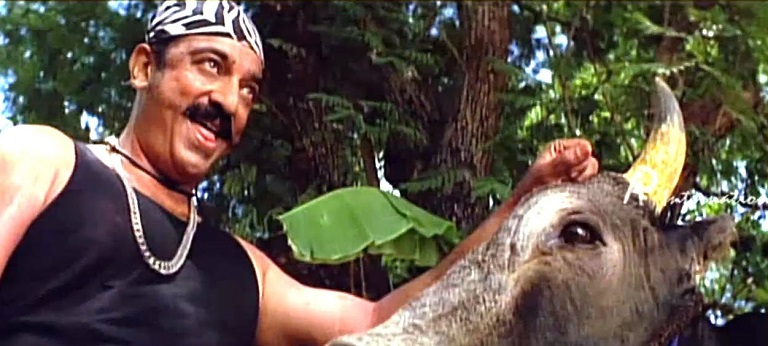 Virumaandi revolves around the narration of two prisoners in a death row. The film explores the controversy revolving around the death penalty. As a mischievous and happy-go-lucky youth, Kamal Haasan get into a bullfight (Jallikattu) in the film. Jallikattu is a sport deep-rooted in our culture and for that particular scene, real bulls were brought in and a Nuendo machine was kept at the shooting venue as the scene was shot live. Watch the full scene here:
4. 'Therukoothu' in Anbe Sivam
Anbe Sivam set a different tone than the usual films Kamal Haasan acted in. As a social reformist, Kamal spreads reformatory ideals through the dying art of 'Therukoothu'. Dialogues about Communism and right-wing ideologies were beautifully orchestrated via street plays. Here's an example of how he did it in the film:
5. 'Tholpavai Koothu' in Dasavathaaram
Dasavathaaram is a modern take on the nine avatars of Vishnu illustrated in the Puranas. Kamal tests his limits as an actor and performer in this film by portraying ten diverse characters who hail from different backgrounds. But, even in the midst of reinventing himself as an actor for each scene, Kamal managed to incorporate a scene showing the ancient art of shadow puppetry or Tholpavai Koothu. Asin who plays his love interest performs shadow puppetry in one of the songs before encountering the hero Kamal in the film. Here's the song:
6. 'Villu Paattu & Koothu' in Uthama Villain
The movie is a complex, philosophical poetry and Kamal Haasan plays a dying megastar wishing to complete a final film, in which he works with his mentor, director K. Balachander. For this film, Kamal Haasan did a street artist role with a fusion of Kerala's Theyyam and Tamilnadu's Koothu along with Kalari and Villu Pattu. Although the make up and look were inspired from Theyyam, the core concept was that of Therukoothu or Nadagam, an ancient art of storytelling with music (Villu Pattu) in Tamilnadu. Here's a glimpse:
We are eager and thrilled to kickstart this New Year with the launch of a new pop-up channel dedicated to Ulaganayagan Kamal Haasan.
All Astro customers can enjoy an endless array of Kamal's evergreen movies from 1st to 31st January 2021 on Kamal Haasan Astro Channel 242.

Photo Credit: Hindustan Times, Rediff, Scroll India, iMDB, The MovieDB, India Today, Youtube, Behindwoods & Sun TV