Daven R has always been fascinated by films. Growing up, he distinctly remembers his house filled with 35mm film rolls and the walls plastered with movie posters. His father Raghavan was a film projectionist. Daven used to follow him to rural estates and 'kampongs' to set up outdoor cinema, which is usually referred to as 'wayang pacak', those days.
"My dad always tested the film before the show and I will be assisting him, mostly disturbing him. But, he was never the one to stop me," Daven recalls.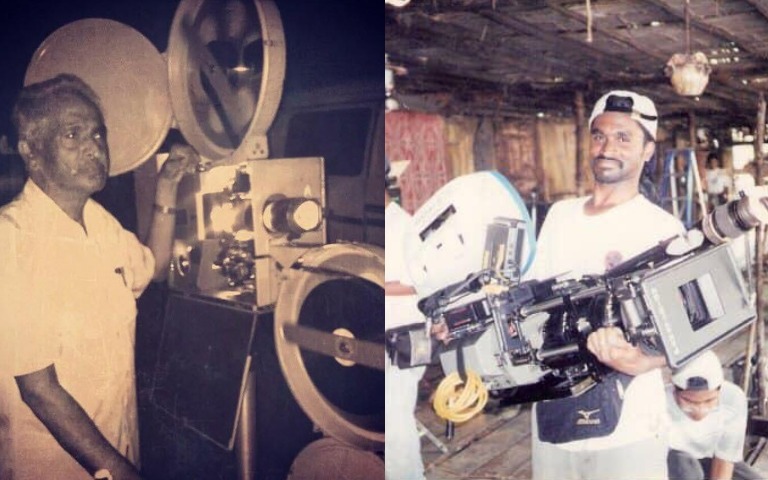 Once, he accidentally dismantled a roll of 35mm film when the show was about to begin. It took his father 2 hours to set it back on.
"I still remember how he felt so satisfied seeing the audience there enjoying the show. It was from him I learned that entertaining people is one of the best kind of happiness. You feel blessed!"
Thus, Daven decided to pursue his "passion" in filmmaking to entertain people. Upon completing his schooling, he enrolled in Akademi Filem Malaysia (AFM) and took up "Directing and Cinematography" course.
After graduation in 1999, Daven started off as a crew member in film projects, before eventually becoming one of the youngest cinematographers at the age of 21.
On asked about why he has only made Malay movies, and not local Tamil movies to date, Daven said: "Back then, the Malaysian Tamil movie industry was literally non-existent. So I entered the Malay industry as a cinematographer and worked my way up to land some of the biggest films."
Over the years, Daven has only made a short film, some TV commercials, and shows in Tamil. Despite his short movie project grabbing attention in film festivals in 2001, Daven decided to stick to working on Malay projects, where he was already well known.
In 2015, Daven made a low-budget Malay movie called 'CCTV' that kick started his career as a director and gave him good returns. He has now directed with his second project called 'KL Vampires', which is an adaptation of the mythical folklore 'Raja Bersiong'
Raja Bersiong is an evil king who is fond of human blood and in the film's context, he is portrayed as the patriarch of two feuding groups of vampire descendants - one of which is trying to conquer the human race, and the other, trying to save it.
The project is the result of Daven's interest in action and fantasy subjects. The twist on the 'Raja Bersiong' myth gives relevancy to the local audience, he said.
"I have faith that Malaysians will accept this genre. It's different, unique. First, I tried a comedy approach to the story, and the script went through multiple revisions," he explained.
When asked about the audience's first impression and reaction, he reveals that people have been pretty positive about the film. He received positive feedback during the film's premiere and one of the soundtracks released on YouTube reached 100,000 views within a week.
"After the premiere of the film, some big producers complimented the film and admitted that it was a bold attempt. They loved how different the film was and I can't wait for Malaysians to watch it!" he exclaimed.
As a Malaysian Indian who has predominantly worked in the Malay film industry, Daven has made us proud of the films and projects he had been part of all these years. Some of his works include Mr Cinderella 2, Susuk, Gong, Adnan Sempit Part 2 and 3 and Mat Kilau.
It's time we show our support to this accomplished filmmaker and make the film a success. 'KL Vampires' will be released on 14th November 2019 and don't forget to catch it in your nearest cinemas.
Watch the trailer here: