Actor Vivek is not only a legendary comedian but an environmentalist whose biggest dream in life is to plant 10 million trees.
He launched the 'Green Kalam project' in 2010, a nationwide tree-planting campaign to honor the wishes of former President late A.P.J. Abdul Kalam. According to Vivek's Twitter bio, in which he has 4 million followers, the actor has already planted 33.23 lakhs of samplings.
Kollywood sees his death not only as a great hit to the industry but also a national loss as Vivek has been actively spreading messages related to social and environmental issues.
Here's what some of the said or tweeted after learning about the comedian's untimely passing:
#RipVivek pic.twitter.com/MSYVv9smsY

— Rajinikanth (@rajinikanth) April 17, 2021
நடிகனின் கடமை நடிப்பதோடு முடிந்தது என்று இருந்துவிடாமல் தனக்குச் செய்த சமூகத்துக்கு தானும் ஏதேனும் செய்ய விரும்பியவர், செய்தவர் நண்பர் விவேக். மேதகு கலாமின் இளவலாக, பசுமைக் காவலராக வலம் வந்த விவேக்கின் மரணம் தமிழ்ச் சமூகத்திற்கு ஏற்பட்ட பேரிழப்பு.

— Kamal Haasan (@ikamalhaasan) April 17, 2021
What a great loss ?. Shocked and saddened .. #RIPVivekSir pic.twitter.com/GVDojaTTOh

— Samantha Akkineni (@Samanthaprabhu2) April 17, 2021
I am deeply saddened by the loss we have encountered. My condolences to the family.
You will be dearly missed Vivek Sir. Rest in peace ?? pic.twitter.com/00jhTYIcZK

— Tamannaah Bhatia (@tamannaahspeaks) April 17, 2021
மனதில் விதைத்த சிந்தனைகள் வழியாக தலைமுறைக்கும் எங்கள் நினைவில் வாழ்வீர்கள் விவேக் சார்...
மீள முடியாத துயரத்தில் தவிக்கும் குடும்பத்தாருடன் துணை நிற்போம்...#RIPViveksir pic.twitter.com/nc0Dl8aC7o

— Suriya Sivakumar (@Suriya_offl) April 17, 2021
Vivek sir ???

— Dhanush (@dhanushkraja) April 17, 2021
Such a great loss , Padmashri Vivek sir.
His comedies always had meanings and social messages for us to think and realise what reality world is.
A writer, an artist , an activist and a good human being. You will be missed sir.
My deepest condolences to the family.#RIPVivekSir pic.twitter.com/56mKbp6WE3

— Mugen Rao (@themugenrao) April 17, 2021
Heart broken and shattered. Great loss to the industry and to the society. Such a gem of person. So much he wanted to do for the society. Will miss you sir. Love u sir always @Actor_Vivek #RIPVivekSir pic.twitter.com/Vu6Ep6t6fW

— Arya (@arya_offl) April 17, 2021
I prayed for a miracle that you would come back safe but shocked beyond words now. Memories of working alongside you still remains fresh in my mind. Your greatness will live through your trees. #RIPVivekSir Prayers and strength to the family.

— Jayam Ravi (@actor_jayamravi) April 17, 2021
Actor #Sathyaraj has issued a condolence message for late Vivek Sir..#RIPVivek pic.twitter.com/Gwwve6bk7H

— Ramesh Bala (@rameshlaus) April 17, 2021
RIP @Actor_Vivek sir.Heart broken and stunned that you would embark on your heavenly journey so suddenly and early.The world is deprived of a truly good man who genuinely cared for everyone and everything in it. I will so miss your laughter, wisdom and care.The heavens are lucky pic.twitter.com/cb3QKyp5Ih

— Ranganathan Madhavan (@ActorMadhavan) April 17, 2021
"என் மேல் அளவற்ற அன்பு கொண்டவரும், எனது நெருங்கிய நண்பருமான மாபெரும் கலைஞன் விவேக்கின் மரண செய்தி கேட்டு பெரும் அதிர்ச்சி அடைந்தேன். தனிப்பட்ட முறையில் எனக்கும், தமிழ் திரைப்பட உலகிற்கும் மாபெரும் இழப்பு." - நடிகர் விக்ரம்.#RIPVivekSir #Vivek #Vikram pic.twitter.com/xSAh9DhFKi

— Galatta Media (@galattadotcom) April 17, 2021
விவேக் சார் மறைவு செய்தி மிகவும் வேதனை, அதிர்ச்சியை தருகிறது. நகைச்சுவையினால் விழிப்புணர்வினை ஏற்படுத்திய அவர் கருத்துக்கள் காலத்தால் அழியாதவை, கண்ணீர் அஞ்சலி .

— A.R.Murugadoss (@ARMurugadoss) April 17, 2021
Shocked and devastated beyond words. I remember he was the first person ever to call and wish me when our first song released. Rest in peace Vivek sir. Your legacy will live on forever ??

— Anirudh Ravichander (@anirudhofficial) April 17, 2021
Deeply saddened to hear the demise of #Vivek you will always remain in our hearts. My condolences to Vivek Ji's family.#RIPVivekSir pic.twitter.com/odO0CuJlZ8

— Simran (@SimranbaggaOffc) April 17, 2021
An epitome of energy. Still cant believe you are no more sir. #RIPVivekSir You will be missed, no one can replace you. ?? pic.twitter.com/90MXoKhxEi

— Hansika (@ihansika) April 17, 2021
Really Shocking....
Rest in Peace Vivek Sir ?? pic.twitter.com/cWBrVDWvp8

— karthik subbaraj (@karthiksubbaraj) April 17, 2021
#காலமானார்_விவேக் | நடிகர் விவேக் மரணம்: நடிகர் ஆனந்த்ராஜ் இரங்கல்!#SunNews | #ActorVivek | #RIPVivek | #Anandraj | #விவேக் pic.twitter.com/MCULQPDs2F

— Sun News (@sunnewstamil) April 17, 2021
No words to say shocked.
Tamil Industry will always miss ur presence
RIP @Actor_Vivek

— Jiiva (@JiivaOfficial) April 17, 2021
Deares Vivek Sir,
I met you when I did my first Tamil film and you were the most gracious person I have ever met..
Thank You all the warmth and support you have always given so many actors like me, i will treasure my experience always #RIPVivekSir

— Genelia Deshmukh (@geneliad) April 17, 2021
Ahhh.. #vivek ...gone too soon dear friend ..thank you for planting thoughts n trees ...thank you for entertaining and empowering us with your wit and humour..will miss you...RIP pic.twitter.com/oyoOkx8G9q

— Prakash Raj (@prakashraaj) April 17, 2021
உங்களால் சிரித்த, சிந்தித்த கோடிக்கணக்கான மனங்கள் மட்டும் அல்ல... நீங்கள் உருவாக்கிய விழிப்புணர்வால் நடப்பட்ட கோடிக்கணக்கான மரங்களும் உங்களுக்காகக் கண்ணீர் விடுகின்றன... சென்று வாருங்கள் @Actor_Vivek சார்? pic.twitter.com/cbV8dg6Efu

— Actor Soori (@sooriofficial) April 17, 2021
அய்யோ! சிரிப்பு செத்துவிட்டதே!
எல்லாரையும் சிரிக்கவைத்த கலைஞன்
அழவைத்துவிட்டுப் போய்விட்டானே!

திரையில் இனி பகுத்தறிவுக்குப்
பஞ்சம் வந்துவிடுமே!

மனிதர்கள் மட்டுமல்ல விவேக்!
நீ நட்ட மரங்களும் உனக்காக
துக்கம் அனுசரிக்கின்றன.

கலைச் சரித்திரம் சொல்லும் :
நீ 'காமெடி'க் கதாநாயகன்.

— வைரமுத்து (@Vairamuthu) April 17, 2021
Maaperum kalaignane Manam udaindhu ponen ???? Periya izhappu ....yenna nadakkindradhu ???? #RIP pic.twitter.com/x9jEtuXkr8

— S J Suryah (@iam_SJSuryah) April 17, 2021
Absolutely shocking. I am shattered. How can someone who was so active n fit just go? #Vivek was a very good human being. Gone too soon. Will miss him terribly. #RIP #Vivek

— KhushbuSundar ❤️ (@khushsundar) April 17, 2021
Shattered. Heart broken. How is this even possible vivek. Too young too smart too talented too intelligent to go so early.

— Suhasini Maniratnam (@hasinimani) April 17, 2021
In disbelief!! RIP @Actor_Vivek sir!! Was an honour to interact with a legendary comedian such as yourself

— Vidyu Raman (@VidyuRaman) April 17, 2021
Heartfelt prayers with family? hope they muster up the courage to face the irrepairable loss. pic.twitter.com/VK6WiZHVzy

— Lakshmy Ramakrishnan (@LakshmyRamki) April 17, 2021
Shocked beyond words @Actor_Vivek . So many wonderful memories and moments shared with you keep rushing into my https://t.co/I0HXr6yYPc heart goes out to your family ,#RIp dear friend.

— Radikaa Sarathkumar (@realradikaa) April 17, 2021
My heart and soul refuses to believe the fact that our Vivek sir is no more..
What an extraordinary artist and a human we had lost..
My heartfelt condolences to his close knit family..#RIPVivekSir

— D.IMMAN (@immancomposer) April 17, 2021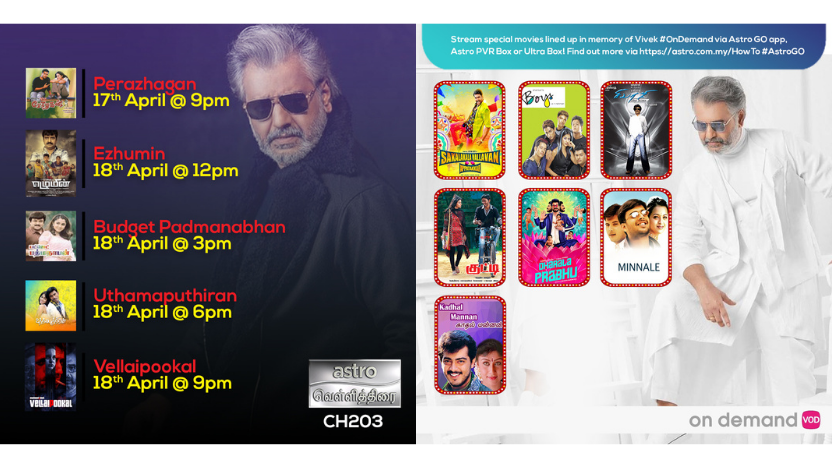 Source: The Hindu & Twitter
Photo Credit: New Indian Express, The Times of India, G Tamil Cinema & Zee5