Love has been one of the core themes of many art forms, be it a painting or cinema. Kollywood has celebrated love in countless films throughout the years. Some of the ones we list here are a mix of classic love stories (a boy meets a girl and falls in love) and stories that have made an enduring impression by depicting love in a fresh light and breaking the social constructs around the idea of love.
Let's take a look at some of the top romantic love stories in Kollywood that you can watch on Astro GO for Valentine's Day!
Kadhal Kottai (1996)
Kathal Kottai is one of our list's more conventional, classic love stories. A connection ensues between Kamali (Devayani) and Surya (Ajith) when she misplaces her bag in the train, which is found by the latter. Surya delivers it to Kamali with a letter, sparking a series of exchanges between the duo and blossoms into love.
While the Tamil films at the time portrayed parental pressures and socioeconomic differences as hurdles to love, Kathal Kottai provided a fresh viewpoint on how the lack of technology created a barrier in their relationship.
The conclusion rivals thriller flicks, keeping us on the edge of our seats as we root for the lovers, who may or may not learn their true identities before it's too late.
Rhythm (2000)
'Rhythm' is a severely underrated gem, with not one but three love stories (starring Arjun, Meena, Jyothika, and Ramesh Arvind in lead roles) exploring various aspects of insecurities in love or a romantic relationship.
Whether it's the dread of losing a loved one, the desire for acceptance by your spouse's family, or the taboo of remarriage that prevents you from having a fulfilling romantic connection, the film never fails to astound us with each of its characters and provides a beautiful closure in the end. We won't say anything else because you have to watch it!
Dumm Dumm Dumm (2001)
'Dumm Dumm Dumm' is a simple narrative of hatred evolving into love, but with an unexpected twist. Adhitya (Madhavan) and Ganga (Jyothika) are forced into an arranged marriage and scheme to escape it, but eventually, they fall in love.
Their wedding, however, is called off after a family quarrel, and they resolve to unify their families. Unlike the heroines in most of the films at the period, Ganga's independent and doesn't spend her days wondering about her lover's whereabouts.
Instead, following the canceled wedding, she leaves for the city to pursue her studies. She's bold and not afraid to speak her mind, which eventually attracts the Adhitya. Surprisingly, her physical aspects didn't play a significant part in his attraction towards her; rather, her personality and ideals left a lasting impression on him.
Ghajini (2005)
Some may be surprised to discover that 'Ghajini', an action thriller, is included on a list of films celebrating love. Ultimately, Ghajini honors the love between Sanjay (Suriya) and Kalpana (Asin) that even death can't kill.
While Sanjay yearns to avenge his lover's murder, he is severely handicapped by a mental disorder known as 'Short Term Memory Loss.' But it doesn't stop him from completing the feat of killing everyone implicated in Kalpana's death.
By the end of the film, despite the overwhelming emphasis on action and violence, we are only left with the memorable sequences of Suriya and Kalpana's enduring love for each other.
Kaavalan (2011)
Where do we even begin? 'Kaavalan' is a celebration of love, the butterflies and excitement during the initial stages, and the yearning that follows, finally ending with the agony of separation.
This family entertainer begins with Bhoomi (Vijay) assigned to guard his boss' daughter Meera (Asin) but soon falls in love with a mystery caller who turns out to be Meera. While the film is lighthearted for most of its duration, it takes an unexpected turn towards the end that crushes our hearts.
Mayakkam Enna (2011)
'Mayakkam Enna' is one of our favorite romantic movies of all time, mostly because the narrative deviates from the norm: a courteous and love-stricken hero pursuing a flawlessly beautiful and good-natured heroine. Instead, Karthik (Dhanush) and Yamini (Richa Gangopadhyay) are flawed characters with a deep bond that starts with a quarrel.
Despite dating Karthik's buddy Sunder, Yamini is drawn to Karthik, even as he attempts to resist her subtle advances. Seeing two such imperfect people come to life on-screen, even at their worst, the viewers can't help but root for this couple.
Yamini's love is challenged in the second part of the film, not by external factors but by Karthik himself, who falls into a downward spiral of depression. Because it is so intimate and raw, the film is a must-see for all lovers.
Moonu (2012)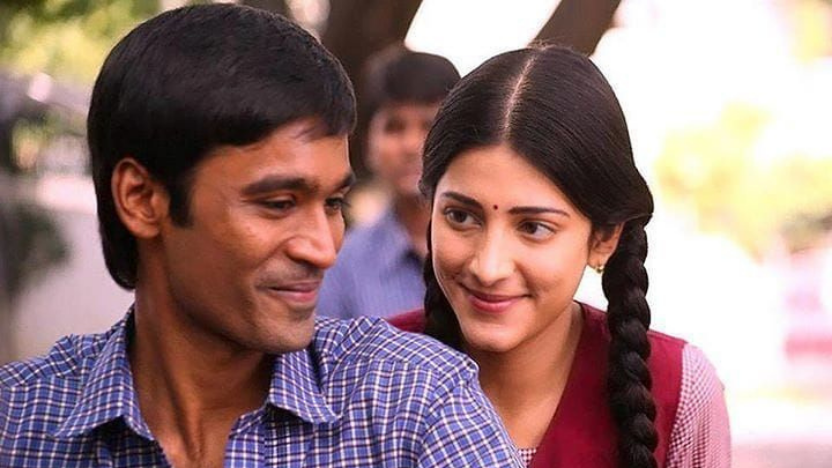 'Moonu' (3) begins as a charming love story before transitioning into a devastating narrative of suffering and loss. During the film's release, every adolescent and young adult could relate to Ram (Dhanush) and Janani (Shruti Haasan) and the sweet taste of first love.
However, not many people are lucky enough to end up with the first person they give their hearts to, but this is precisely what happened in the case of Ram-Janani.
Their lives seemed to be a dream come true, only to be wrecked by an unexpected revelation. Ram sets a distance between himself and Janani, mostly to protect her, demonstrating the traditional notions of love, putting your lover before of you and your own needs, until eventually inflicting anguish on her that might last a lifetime.
Raja Rani (2013)
The theme of love after marriage has been popular in films and novels. 'Raja Rani' may seem like just another narrative about two people with contrasting personalities who are trapped in marriage before falling in love with one other.
However, the story is about more than just love after marriage; it's also about gaining self-acceptance through attempting to understand and connect to each other's past. John (Arya) and Regina (Nayanthara) are still not over their ex-lovers, died tragically, and are the last persons on Earth who want to marry.
But their marriage brings them not just love but also the strength and acceptance they need to face their past and the loss they have suffered. It's a beautiful story, we must say!
Yennai Arindhal (2015)
The love scenes in 'Yennai Arindhal' between Satyadev (Ajith) and Hemanika (Trisha) aren't as long as we'd want, but they leave a lasting impression.
Sympathy has often been misconstrued as love, and marrying a widower or divorcee has been seen as a great sacrifice. Yennai Arindhal challenges that notion, rewiring us to see that sympathy and sacrifice are not synonymous with love.
Satyadev felt honored to be a part of Hemanika's and her biological daughter Anikha's (from her previous marriage) life. Even when Hemanika died, Satyadev continued to care for Anikha out of care and devotion for her.
Everyone is equal in love, and no one should ever feel obligated to do anything for the other person. Yennai Arindhal did an excellent job portraying this!
Metro Maalai (2019)
Again, we are treated to films that depict more authentic and flawed characters reflective of actual people. Metro Maalai's plot revolves around a depressed yet gifted male guitarist who encounters a neglected married lady. Despite being socially unacceptable, what develops between them is profoundly deep.
This film is a must-see for individuals who aren't bothered by the idea of infidelity used as a medium to explore the most basic emotions of love and longing! It's our personal favorite since it's made in Malaysia! While the film does not condone extramarital relationships, it does portray the narrative of two lovers who can never be together in the most honest manner conceivable.
Some notable romantic films we thought you might want to check out on Astro GO:
Remo
Mounam Pesiyathe
Manmadhan
World Famous Lover
Geethaiyin Raadhai
Fore more Valentine's Day special films, catch 'Romance Blooms' rail on Astro GO and Astro On Demand! Download the latest version of Astro GO app from
Google Play
,
Apple iOS App Store
, and
Huawei App Gallery.
Photo Credit: Cinema Vikatan, Just News, Filmibeat, Times of India