Here we are with some spicy and scrumptious dish...

Epiosde 05: Goan Fish Curry

Ingredients and method of preparing Goan Fish curry..
Prepare the Curry paste first by adding spices like, fenugreek powder, ground cloves cumin seeds, coriander powder, grated fresh coconut, chilli powder, turmeric powder and onion in a jug and blend it into a paste.
To make the curry, add oil in the pot, add mustard seeds, red onion and ginger garlic paste.
Next add the prepared curry paste in the pot and stir it well.
Add the tomato paste and tomato pulp/puree, and cook until it reduces.
Blitz until the onion is puree and there is nothing hard in this curry paste;
Add Fernleaf Full Cream Milk (mixed from milk powder)
Simmer for 5 minutes to reduce and bring the flavours together;
Add fish in the last few minutes – it only takes 3 to 4 minutes to cook;
Garnish with fresh green chillies and finally curry leave
Goan fish curry is ready to serve



Peanut Rice

Ingredients and method of preparing peanut rice...the aroma is just goshhh...
In a pan roast peanuts, chana dal, sesame seeds, cumin, dried red chilies, grated coconut, and curry leaves on medium-low flame till dals turn aromatic and roasted well.
Take it off the pan, cool completely and, grind it all together to a fine powder without adding any water. Keep aside.
Now in a large wok heat 1 tablespoon of oil and add peanuts, mustard seeds, curry leave and sauté till peanuts are roasted well.
Then add cooked rice along with the finely ground peanut powder, salt and give it a mix and sauté for another 30 secs.
Cover and simmer for 2-3 minutes or till rice absorbs flavour completely
Peanut or groundnut Rice is ready and serve warm along with some papad and yogurt.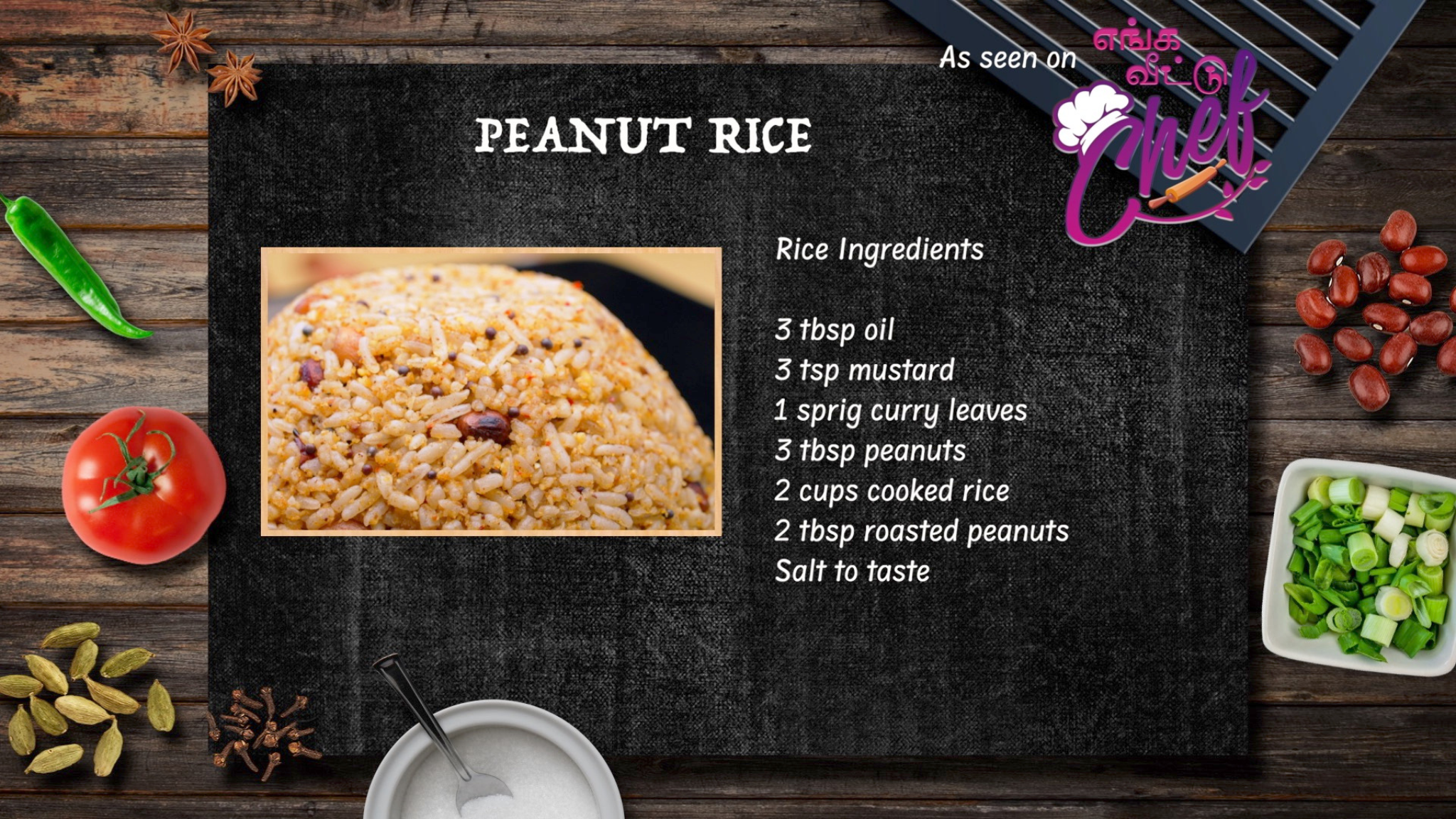 Kuih Kosui

Ingredients and method of preparing kuih kosui...
To make the syrup, melt the dark brown sugar and soft brown sugar in water over low heat until the sugar dissolves. Add pandan leaf to the mix to get a good aroma. Set aside to cool.
In another bowl, add the rice flour and tapioca flour. Slowly pour in the sugar syrup mixture while stirring it consistently until well blended.
Add ½ table spoon alkaline water and cook the flour mixture on low fire until slightly thickened.
Remove the mixture from heat and pour into little teacups. Steam on high heat for 15 minutes. Take the Kuih Kosui out immediately.
Coat the Kuih Kosui with the steamed grated coconut




Episode 04: Bubur Jagung Susu




Ingredients and methods of preparing this mouth-watering dessert...
Pour milk in a pot and add pandan leaves to the milk.
Leave it to boil and add corn kernels from 4 sticks of corn to the milk.
Add sugar and Gula Melaka in the milk.
Keep the heat low
Add soaked sago and stir until smooth and combined.
Add salt and milk. When it starts boiling, turn off the stove and Bubur Jagung Susu is ready to serve.

Kam Heong Crab




Ingredients and methods of preparing this yummylicious dish...
Put the oil in a large wok and heat over high heat. Deep-fry the crabs for about 4 to 5 minutes and set aside.
Reserve 2 tablespoons of the fried crab oil and drain off the excess oil.
Reheat the wok with the reserved oil on high heat.
Cook the dried shrimps until crisps. Then toss in the shallots, curry leaves, black peppercorns, fish curry powder and cook until the mixture is golden in colour and fragrant.
Then add dark soy sauce, and oyster sauce, sugar and give the mixture a quick stir.
Mix in the crabs and stir until well combine and season with salt if necessary.
Finally add sliced ginger to the dish

Serve immediately and enjoy!

Curry leave Tosai




Indeed an interesting dish...
Blend the curry leaves and add the blended curry leaves to the prepared Tosai batter.
Add salt, coarsely ground cumin, and black pepper to the Tosai batter
Mix everything together
Heat Tosai Tawa. Once hot pour a ladle of the batter and spread in a circular motion.
Sprinkle some chilli flakes on the Tosai.
Once cooked serve hot with chutney.


Episode 03 : Prawn Masala

Ingredients that needed for Prawn Masala


Check out the
PREPARATIONS
of the scrumptious dish:
​
Put cleaned prawns in a bowl, marinate the prawns with turmeric powder and salt for 15 mins.
Heat wok with ghee and add mustard seed, curry leaves and chopped onion.
Add green chilli, tomato, ginger garlic paste and cook until the tomato becomes soft.
Now add chilli powder, coriander powder and cumin powder.
Add salt and Fernleaf Full Cream Milk (mixed from milk powder) and stir for 5 minutes or so on a low heat until it turns mushy.
Add garam masala and pepper powder to the mixer.
Add the marinated prawns. Let it cook for 5 to 7 minutes until it is cooked, turns pink and curls.
Finally add coriander leaves, lemon juice and ghee to the prawn masala.
Prawn masala is ready to serve with rice or roti.

Tomato Rice

The key points to note before preparing Tomato Rice...




Methods of preparing...
Heat ghee in a cooker pot and add mustard seeds, white urad dhal, cashew nut (break into 2) and stir well until the cashew nut turns golden brown.
Add fennel seed, cinnamon, clove, bay leaves, green chillies, onion, and ginger garlic paste to the pot.
Saute until the onions slightly softens.
Keeping the flame on low, add turmeric powder, coriander powder, chilli powder and continue to saute until the spices turn aromatic.
Add chopped tomatoes and salt as needed.
Add Full Cream Milk (mixed from milk powder) and boil it for a while.
Finally add rice and coriander leaves together with water.
Cover and cook the rice in a cooker.
Finally, enjoy tomato rice with raita and papad.

Rice Cereal Treat Donuts




Ingredients and preparations for this mouth-watering treat...
Heat up a pot and add butter and marshmallows in the pot.
Melt the marshmallows in low fire and stir until it gets smooth.
Overturn the mixture onto the baking tray and pat with a spatula to form a rough oval.
Use two circle cookie cutters to cut out the donuts. Try and cut as closely together as possible to minimize scraps. Cut it when it is hot.
Decorate rice cereal treats using spatula, ice treats with whipped cream. Sprinkle with Rainbow sprinkles

Episode 02: Mutton Chukka
Ingredients that needed for this dish!


Take ½ kg Mutton and cut it into small pieces.
Marinade the mutton with ginger garlic paste, chilli powder, turmeric powder, little lemon water, salt, and Fernleaf milk (mixed from milk powder)
Rest it for 20minutes
Then add the marinated mutton into a pressure cooker with little water and cook on medium-high for 2-3 whistles
Alternately, you can cook the meat in a deep covered pot till tender, this will take anywhere between 30-40 minutes on medium heat.
Heat oil in a wok, add onion, ginger, garlic, cinnamon stick, star anise, cloves and cardamom
Add curry leaves and green chillies. Fry till onions is nicely browned.
Then add turmeric powder and garam masala powder and saute for a few seconds until the paste becomes thick.
Add little Fernleaf Full Cream Milk (mixed from milk powder) to make the paste thicker and creamier.
Now add the par-cooked mutton along with all the gravy formed while cooking the meat. Season with salt.
Cook on medium-high heat to reduce any liquid. Keep stirring and tossing the meat to coat with all the spices.
When the mixture is well cooked and fairly dry, add coriander leaves
Serve mutton fry hot with rice or roti and raita

How to Prepare the masala for the mutton chukka..





- Roast the below spices together on a dry pan until there is aroma and then grind them all.

- Dry Chilli, Cumin seed, fennel seed, coriander seed, cardamom, black peppercorn, cinnamon stick and cloves.

Indian Style Creamed Spinach


Ingredients and preparations to make Indian Style Creamed Spinach..
Hit up water in a pot and add spinach in the hot water and boil it until it becomes soft​
Remove from the heat as soon as the spinach has wilted to avoid over cooking the spinach
Transfer the spinach to a cold water and then cut the spinach to small pieces
Heat the wok with some oil and add sliced onion, minced garlic, and finely chopped ginger, green chilli, finely chopped tomato, cumin seed, turmeric powder and garam masala
Stir and cook the tomato with the other ingredients, dissolving any browned bits off the bottom of the skillet, until the tomato has broken down
Finally, add the Fernleaf Full Cream Milk (mixed from milk powder) and spinach mixture to the wok and stir to combine. Allow the mixture to heat through, stirring occasionally.
Taste the creamed spinach and add salt and lime juice to taste.
Indian Style creamed spinach is ready to serve
Kuih Bom


Ingredients and methods of preparing the mouth-watering dessert...
Heat the pot and add 1 cup of water and boil it.
Add sugar to the boiled water and melt it.
After the sugar water is cold, add to the rice flour and knead it until the dough is not sticky to hand
Leave the dough to rest for 30mins.
After 30 minutes shape the dough into small balls.
Flatten each ball and put about 1 tsp of filling, wrap up and reshape into balls.
Dip in rice flour water and coat with sesame seeds.
Heat oil in a wok and deep fry sesame balls over medium heat until golden brown.
Leave the balls to cool down completely before serving.

Episode 01: Chicken Satti Sorru
Ingredients that needed for Masala Paste!





Ingredients needed for main dish, Chicken Satti Sorru....


Let's delve on the method of making this insane delicious dish..
• Heat pot and add cooking oil and ghee.

• Add cinnamon, clove, cardamom, dry chilli, and curry leaves in the oil.

• Saute for a while and add ginger and garlic paste, finely chopped small onion and tomato.

• Saute until the tomato cooks

• Add marinated chicken pieces (marinate the chicken with the turmeric, chilli powder and salt) in the pot and mix it well.

• While the chicken is cooking, prepare masala paste (a mixture of garam masala and chicken meat curry powder)

• Add masala paste to the chicken then add water and salt

• Let the chicken cook for a few minutes with the lid closed.

• Cook until the chicken is well coated with the gravy.

• When the chicken is cooked, add rice to the chicken gravy and mix it well

• Finally add Fernleaf Full Cream Milk (mixed from milk powder) to the mixture of chicken gravy and rice

• The delicious Chicken Satti Sorru is now ready to serve!

Kothamalli Thogayal
Ingredients and methods of making Kothamalli Thogayal..

Let's delve on the method of making this insane delicious dish..

• Heat a pan with oil, add Urad dal and gram dal. Fry them in oil until they turn light golden-brown colour.

• Then add red chillies, hing, coriander seeds and black peppercorn

• Place the fried ingredients in a separate plate and cool it.

• Add oil to the pan, add grated coconut and tamarind. Fry for a while and move it to the plate with the previous fried ingredients

• Add coriander leaves and mint leaves to the heated pan and saute for a couple of minutes.

• Allow the fried ingredients to cool down before grinding

• Once the ingredients are cooled down, add all the ingredients to the mixer jar with salt and brown sugar and grind the ingredients to a coarse paste.

• You may add a little bit of water to ease the grinding process.

• Take the Coriander leave Chutney in a bowl

• It's ready to serve
No Bake Chocolate Peanut Butter
Ingredients and methods of preparing the mouth-watering dessert...
Let's delve on the method of making this insane dessert...

• Mix graham crackers crumbs with sugar and melted salted butter. Add creamy peanut butter and mix.

• Then transfer the mixture to a tray and pour melted chocolate on top of the peanut butter layer.

• Chill in the refrigerator until set, then cut into square pieces.

• Delicious Chocolate peanut butter is ready to serve

Full of aroma and you'll never regret of trying it!

Good food is a universal human comfort, and TV shows about good food are nearly as popular.

What better way to do that than indulging yourself with heartfelt food shows and cooking up a storm?

Having our renowned local celebrities along with their mothers/mothers-in-law/aunties/sisters - "Enge Vettu Chef" cooking show is all set to light the fire under our collective feet, persuading us to throw on the apron more and try to nail our mothers' signature recipes.

Set yourself to watch the special cooking show premiering on 3rd March, every Friday at 7.30PM.