As the world slowly returns to normal after the COVID-19 pandemic, here are FIVE (+ a bonus) unusual hotels around the world that you could consider staying in, to make your travel more memorable:
1) The Manta Resort, Zanzibar
The rooms here float, and are suspended in the water, with the lower bedroom being 13 feet underwater. Imagine seeing sealife swimming around you in all direction when you look out the room, anytime of the day. There are also the sea-level rooms, and a rooftop patio where you can soak in the sea breeze while gazing at the night sky. No prizes for guessing that scuba diving and snorkelling packages are included in the package for guests of this hotel.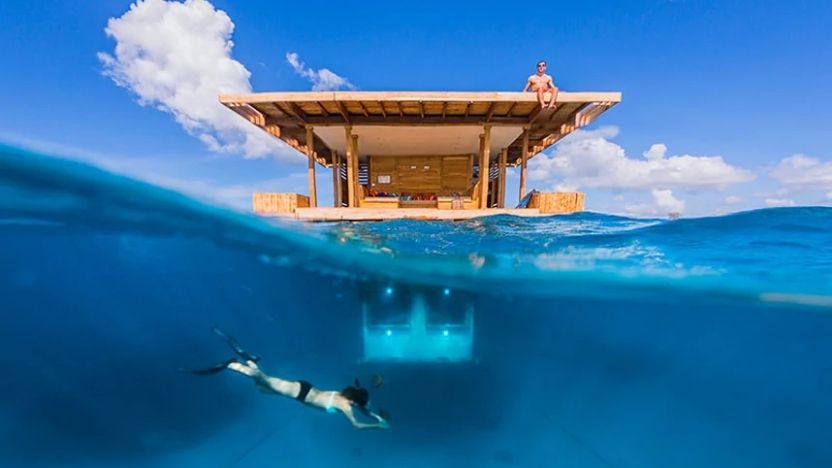 2) Hobbit Motel, New Zealand
You will love this if you are a fan of the Lord of the Rings Trilogy. The motel in Woodlyn Park in New Zealand is built to replicate the homes of hobbits, albeit with slightly higher ceiling so that you won't end up knocking your head anywhere during your vacation.
3) Intercontinental Shanghai Wonderland, China
This is the world's first underground five-star resort. It is built on the slopes of an abandoned quarry and the bottom of the building extends downwards to the water, with the bottom two floors sitting underwater.
4) The Dog Bark Park Inn, Idaho, USA
This one is for pet lovers, especially those of the canine kind. The whole building is shaped like a 12-foot beagle, and guests (it only fits four at a time) can enter the beagle's body (read room) through the second-storey deck. And yes, the inn is pet-friendly.
5) V8 Hotel in Stuttgart, Germany
Car lovers can get their fix at this hotel, where the rooms are themed around automobiles. Vintage cars, racing paraphernalia, and drive-through cinemas litter this one-of-a-kind hotel for gearheads.
Bonus: The Library Hotel, New York, USA
This hotel would please bibliophiles. Each of the hotel's 10 floors is dedicated to a category (for instance, literature, technology, the arts) and so on, and every room also comes with a collection of books in the genre of the particular floor. In addition, the hotel also hosts a writer's space, a petry garden, and a reading room.
There are many unique, or unusual hotels or accommodation spots around the world, and these are just six examples that Astro Ulagam managed to compile for your "inspiration". What other unusual hotel that you know of, and can share with us?
Source: Telegraph.co.uk, nationalgeographic.com
Photos source: Telegraph.co.uk, roughguides.com