Be it in Kollywood, Hollywood or Bollywood movies, the female lead mostly plays the character of a damsel in distress or mere love interest with no significant role to impact the movie.
But this norm is slowly changing, as more and more women-centric movies are giving society a whole new perspective about female empowerment.
This women's day, let's take a look at some of the best 'woman power' movies, which are nothing but sheer inspiration:
Kollywood
Magalir Mattum
Addressing the #MeToo issues in the 90s, Magalir Mattum is a Tamil movie which talks about workplace harassment towards women.
In the movie, three courageous women take matters into their own hand by teaching their boss a lesson. This movie shows that women power is indeed a formidable force.
English Vinglish
This Sridevi starrer is all about a strong woman who is determined to improve herself. Surrounded by people who belittle her for her inability to converse in English, this strong-willed woman takes English classes to prove them wrong and overcome her shortcomings.
Aruvi
Aruvi is a critically acclaimed movie which exposes the hypocrisy and cruelty of the society. The story revolves around a woman, who was infected with HIV via her open wound and how society, including her family, shun her away without even giving her an opportunity to speak up.
The bold women then attend a TV show to tell her side of the story and took them in a gunpoint to make her statement clear.
Aramm
This movie revolves around an honest Indian Administrative Service officer who takes charge in a drought-hit village. When a child gets trapped inside a well, the women fought to get the child saved, despite facing setbacks from the people around her.

Hollywood
Black Panther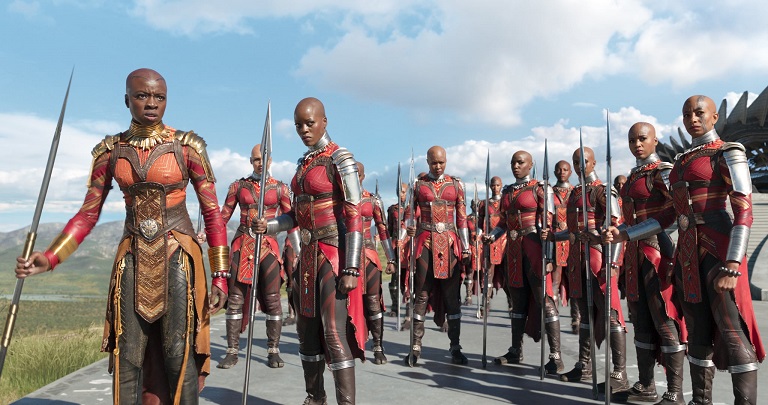 While many movies portray women as helpless, fragile beings who need men to protect them, Black Panther brings out a strong message that women can protect men too.
The women in the movie fought courageously next to the hero and proved that they are capable of taking care of themselves.
Mulan
From Snow White to Sleeping Beauty, Disney princesses have traditionally been portrayed as damsels in distress waiting for their handsome prince to protect them. But Mulan is definitely one of the most badass Disney princesses of all time.
Based on the legend of Chinese warrior Hua Mulan, the movie is about a girl from a time when a woman's duty was to take care of the family and to do the house chores, who disguised herself as a man and took her father's place in the Chinese military.
Bollywood
Neerja
A movie like Neerja shows the world how tough a woman is. This movie is based on the true story of Neerja Bhanot, a flight attendant who fought the terrorists and saved hundreds of passengers from a hijacked plane. Despite saving the hostages, she didn't walk out of the plane alive.
Neerja was awarded with the Ashoka Chakra Award, Tamgha-e-Pakistan Award, Flight Safety Foundation Heroism Award, Justice for Crimes Award, Special Courage Award, Civil Aviation Ministry Award and Bharat Gaurav Award for her bravery and immense sacrifice.
Pink
This movie about a sexual assault victim being unjustly tried for the attempted murder of her attacker addresses the fact that men and women are judged by a different standards.
The three women in the movie fight a court battle against the attacker with the help of a lawyer and breaks the stereotype that independent or outgoing girls are promiscuous.
Image credit: TheNewsMinute, LawAndOrder, Livemint, Popsugar, Syfy, IMDb and DisneyMovies