Plan to have a long break and travel overseas?
There's nothing worse than being stuck at home because you didn't have time to renew your passport.
Taking things into consideration, the Immigration Department has opened a new passport office at Kuala Lumpur International Airport to reduce congestion at nearby passport offices.
Home Affairs Minister Datuk Seri Saifuddin Nasution Ismail revealed that the
KLIA Passport Office
is a pilot project, and it is a quick win for the Home Ministry to address congestion at Immigration Department's passport offices.
Assalamualaikum WBT & selamat pagi,

Moga urusan kita semua berjalan lancar hari ini

Saya kongsikan infografik langkah-langkah awal yang diambil bagi atasi isu kesesakan di kaunter Imigresen & isu pelawat asing beratur panjang di KLIA

Ikhtiar #DemiPertiwi#MalaysiaMADANI #DSSN pic.twitter.com/baG13nK44x

— Saifuddin Nasution (@saifnasution) January 26, 2023
KLIA Passport Office
It's good to know that the office is operating from Monday to Friday (except public holidays) between 8am to 5pm, which provides ample time for applicants to submit their passport applications and renewals.
However, it's important to take note that the office is located at the Long Term Car Park, which is about 1.5km away from the KLIA Main Terminal Building. that applicants can pay for the exact amount of time they spend at the car park.
Furthermore, a total of 20 passport offices in Malaysia, along with urban transformation centres, have been urged to operate all seven days each week for passport renewals and applications.
Although this information was announced earlier this year, a plethora of people are still unaware of the process and wondering how to renew during weekdays. Here's what you need to know:
Passport Offices
Operating hours…
Monday to Friday: 8am to 7pm
Saturday & Sunday: 8am to 12.30pm
These operating hours apply to:
Jalan Duta, Kuala Lumpur
Wangsa Maju, Kuala Lumpur
Menara Ikhlas, Putrajaya
Shah Alam, Selangor
Kelana Jaya, Selangor
Kajang, Selangor
Puchong, Selangor
Kuala Selangor, Selangor
Kuala Kubu Bharu, Selangor
Ayer Keroh, Melaka
Seberang Jaya, Pulau Pinang
Taiping, Perak
Teluk Intan, Perak
Lumut, Perak
Operating hours:
Sunday to Thursday: 8am to 7pm
Friday & Saturday: 8am to 12.30pm
These hours apply to:
Setia Tropika, Johor
Kulai, Johor
Muar, Johor
Batu Pahat, Johor
Kluang, Johor
Kulim, Kedah





Urban Transfromation Centres (UTCs)
Operating hours...
Daily: 8am to 7pm
Weekend: 8am to 5pm
These hours apply to:
All states except Perlis, Pahang, Kedah, and Terengganu
Operating hours....
Daily - including weekends: 8am to 5pm
These hours apply to:
Perlis
Pahang
Kedah
Terengganu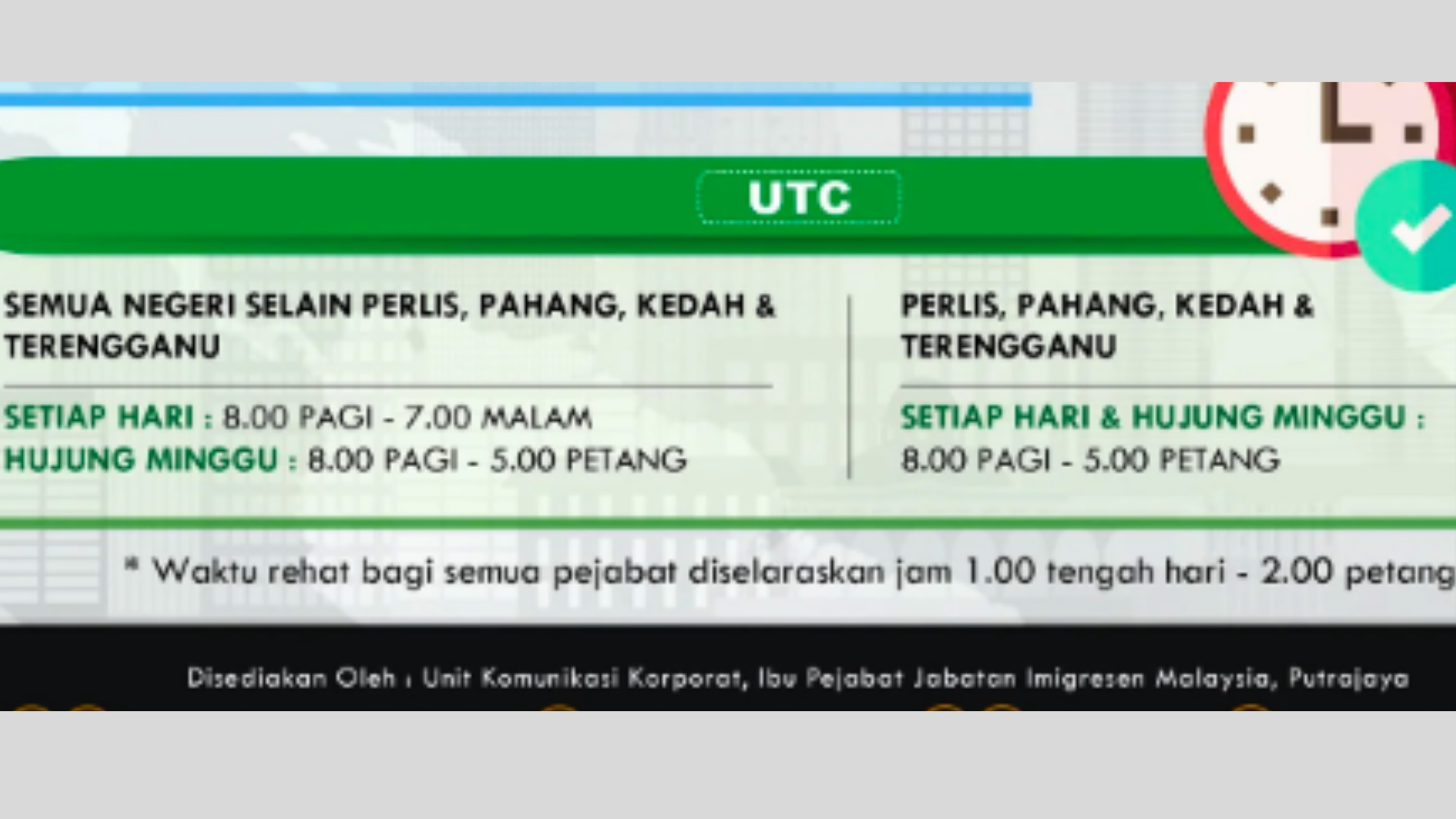 With these new developments, we hope that the passport application process will be smoother and more efficient for all!
Source / Image Credit:
Human Resources Online