By V. Shuman
Ganesan Seerangam is a man on a mission.
The 31-year-old wants to inculcate first class mentality and bring out the best in Indian youth - whom he says have the potential to excel, but just need the push in the right direction.
Ganesan founded the Tamil School Transformation Programme (TSTP) - an NGO that conducts skills and motivation camps for Tamil school students nationwide, in 2011.
Speaking to Astro Ulagam, Ganesan said the idea to start the NGO came when he was in his final year of Degree in Human Resource Management, when they paid visit to schools as part of the Hindu students association.
"We dealt with students from both national schools (SK) and national type schools (SJK, namely Tamil schools), and I noticed students from the latter lacked self confidence when they interacted with us.
"However, the more we dealt with them, I noticed that they had potential, and just needed someone to draw them out," recalled Ganesan, who works as a Human Resource manager at a private firm in Petaling Jaya.
After several sessions, Ganesan floated the idea of establishing the NGO with his friends, and TSTP came to, soon afterwards.
The organisation, which started off with a humble 8-member committee, today has over 200 volunteers nationwide, comprising young Indian professionals and student leaders alike. Today, TSTP has worked with 148 Tamil schools nationwide, and their collaboration has borne fruit in the form of better Ujian Pencapaian Sekolah Rendah (UPSR) results.
Shaping students' personalities
According to Ganesan, TSTP no only focuses on the academic aspect of a student, but shaping their personality as a whole.
"A lot of our students are from broken or problematic families, who are desperately in need of guidance.
"We have noticed that students, particularly students from such families, do not 'open up' as much to their parents, or even their teachers, but do so to us, who they look up to as mentors.
"Once the 'invisible barrier' is broken, then we can guide and develop their skills, and shape their attitude accordingly," he said.
Besides working with, and providing basic needs, such as stationery, to Tamil school students, TSTP also conducts Youth Empowerment Camps and SPM seminars, among others.
The funding for the programmes come from the members' own pockets.
One would presume that Ganesan's thirst to help Tamil school students would be due to his days of receiving early education in one such school, but that is not the case.
Ganesan went to a national school, but helping his community is his "calling", he said.
On hiatus from politics
Ganesan's other affiliation, up to April last year, was politics, where he joined as Working Secretary for the National MIC Youth, before rising through the ranks to the National MIC Education Bureau Head.
He had always been "passionate" about politics, he recalled, reading up on political news in national newspapers when he was just a small boy.
However, getting into active politics seemed improbable then, as he was under the impression that only those with "contacts", or from a political lineage, can get into the line and survive.
His work with TSTP soon got him noticed and in 2016, the then MIC Youth chief C Sivarraajh approached him to join the youth wing.
Ganesan soon ran into trouble with the party leadership, in 2017, when he was reprimanded for calling the then deputy prime minister Ahmad Zahid Hamidi "shameful" for revealing the details of (current Prime Minister) Dr Mahathir Mohamad's identity card.
He also made headlines in 2017, for voicing out against the segregation of drinking cups for Muslim and non-Muslim students at a school in Hulu Langat, Selangor.
After a brief suspension, he returned to politics, but in April last year, he realised that his involvement in politics was taking too much time off his NGO work and his personal life. He was newly married to his wife K Kaladevi, then.
Following his resignation from MIC, Ganesan said he is on a "break", but does not rule out a comeback in the future.
Ganesan's other achievements include being a co-author of the Malaysian Institute of Integrity's National Integrity Plan. He also won the Tamil Youth Icon Award from the National University of Singapore in 2012, and was the first Malaysian Indian youth for a United Nations (UN) programme in New York.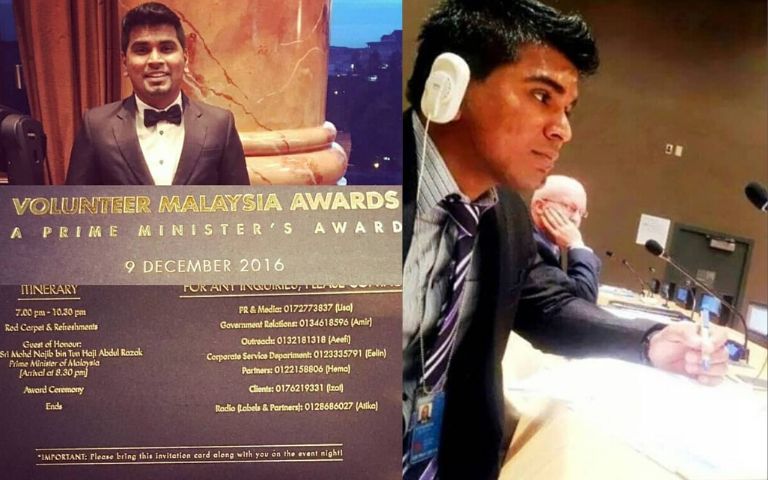 What next?
Asked about what next, Ganesan said he wants to focus on the next generation of leaders, through his NGO work.
"I have seen the impact we have made on students through our programmes.
"I have had teenagers walking up to me, or contacting me to tell how the programme we held for them years ago, have changed the course of their lives, and turned their families' fortunes for the better," he recalled.
Ganesan recalled one such incident of a Tamil school boy who told the TSTP group that he wanted to be a mechanic when he grew up, following in his father's footstep.
Although the group was taken aback by the youth's remark, they told him that he should consider taking Mechanical Engineering studies instead.
Years later, the said boy approached Ganesan at one of the NGO's programmes and told them he was in his final year of Mechanical Engineering degree, and say that it was their advice that incepted the idea in him. The youth later joined TSTP as a mentor.
"I urge more students and young Indian professionals to join us as mentors.
"If there is any way they can give back to the society for where they are at now, this should be it."
Photo source: Ganesan Seerangam