By V. Shuman
Rising to a challenge is human, rising above a challenge is superhuman.
Agalya Arul, 12, is a living testament to this, as she not only sat for her Ujian Pencapaian Sekolah Rendah (UPSR) while being warded at the hospital after an accident, but also managed to score an impressive 8 straight As in the examination.
According to her father Arul Xavier, his daughter, a pupil of SJK (T) Menglembu in Ipoh, Perak, slipped and fell down a flight of stairs at school on August 30, less than a week before the start of UPSR exams.
Landing squarely on her chest, Agalya started complaining of pain and was rushed to a couple of clinics, before being taken to the Ipoh General Hospital, where she was diagnosed with internal bleeding from a spleen injury.
At the hospital, she was admitted in the Intensive Care Unit (ICU) and made to undergo a battery of tests and scans to gauge the extent of her injuries.
"When the doctors said a surgery to remove her spleen may be necessary, I became worried and called up a friend of mine, who was a specialist doctor.
"The doctors decided to put her on observation for 48 hours before proceeding with surgery, and thankfully, in that period, the internal bleeding had stopped," Arul told Astro Ulagam.
UPSR begins
Then the UPSR began and although the family was initially resigned to the fact Agalya may not be able to sit for the exams, they decided to allow her to sit for it upon doctor's advice.
"As the doctor had made it very clear that moving her could further aggravate her injury, she was made to sit for the exam in a special hall within the ICU," he recalled.
Agalya sat for her Bahasa Melayu and English exams in the ICU and then the weekend came. She was given the clearance to go home, but with strict orders her remaining subjects were to be taken in a quarantined room at her school, to minimize physical contact with her peers.
"Usually, people study the hardest in the final days leading up to a major exam but she did not get the chance.
"She was confident that did well in all her subjects, except the second Tamil paper, which she said was difficult.
"She told me she can score at least 7As, but with her hard work, God's blessings, and the support and motivation by doctors and teachers, she scored 8 Straight As," he said.
Agalya is Arul's eldest daughter and he is proud she has turned out to be a good role model to her three younger brothers.
Prior to the accident, Agalya represented the school in running, and was the school netball team captain.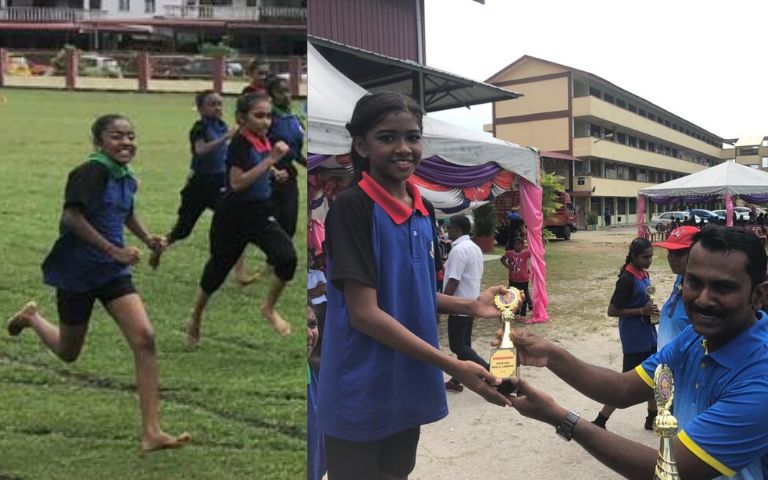 However, she has to put her sporting plans on hold for at least for the next three months, to give her time to completely recover.
To celebrate the gutsy girl's impressive achievement, the family plans to go for a trip to Langkawi in mid-December.
Kudos to Agalya for his remarkable feat, and not forgetting her parents too. Here's wishing her all the best in reaching greater heights in the future!
Catch Agalya and her father's interview on Astro Vizhuthugal at 6:30pm today, on Astro Vaanavil (CH 201).
Photo source: Arul Xavier