As an actor, Kamal Haasan is an epitome of cinematic brilliance and king of expressions. His contribution to Indian cinema in the form of his many avatars in movies have made way for revolutionary thoughts and futuristic experimentation.
Not only did Kamal Haasan revolutionised different aspects of filmmaking, but he also made sure to preserve the rich culture and traditions of Tamilians by incorporating them as a crucial element in the plot of his movies. Let's take a look at the 6 movies Kamal Haasan brought Tamil arts and traditions to the mass audience:
1. Silambattam in Thevar Magan
In a scenic village backdrop, Kamal Haasan plays a rebellious 'educated' son of a highly-revered village head Sivaji Ganeson. This film saw two acting powerhouses share screen space. In one particular scene in the movie, Kamal Haasan stuns everyone with his amazing 'Silambam' skills. His battle with the other Silambam-trained villagers was a delight to watch as the action sequence didn't adhere to the classic cinematic over-exaggerated fight scenes.
2. Jallikattu in Virumaandi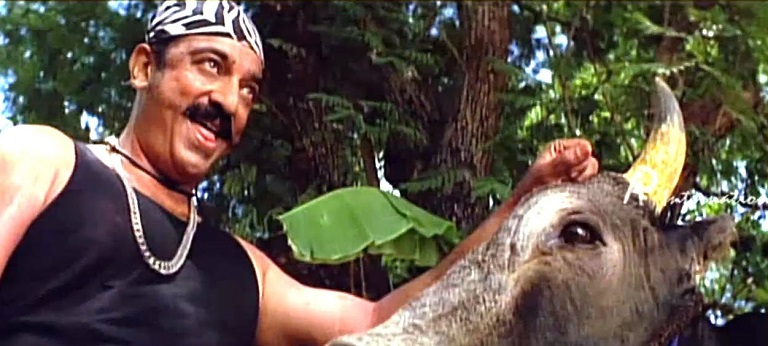 Virumaandi revolves around the narration of two prisoners in a death row. The film explores the controversy revolving around the death penalty. As a mischievous and happy-go-lucky youth, Kamal Haasan get into a bullfight (Jallikattu) in the film. Jallikattu is a sport deep-rooted in our culture and for that particular scene, real life bulls were brought in and a Nuendo machine was kept at the shooting venue as the scene was shot live. Watch the full scene here:
3. Bharatham in Salangai Oli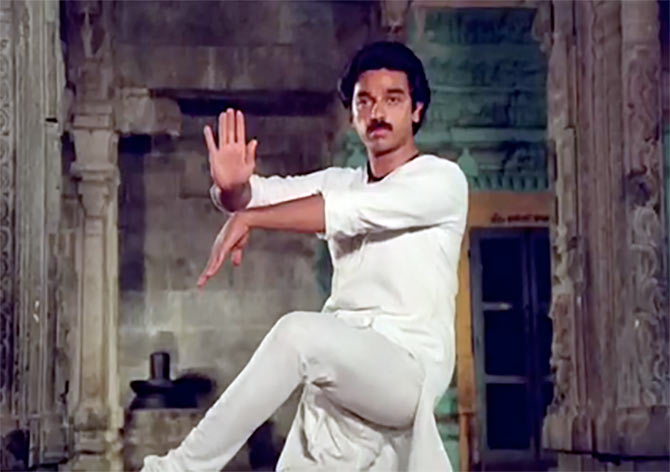 As a sincere, poverty-stricken and multi-disciplined Indian classical dancer, Kamal Haasan mesmerises everyone with his expressions and charm. No other actor could have fit in the role like Kamal did. He was well-versed in different classical dances. Apart from Kuchipudi and Kathak, he managed to capture our hearts with his Bharathanattiyam sequence with Jayaprada. Witness the magnificence here:
4. Mirudhangam in Apoorva Raagangal
Did you know, Kamal Haasan actually learned to play Mirudhangam for this movie? A socially unacceptable movie beyond its times, exploring love between individuals with extreme age gaps. His love and frustration merge with the rhythm of the mirudhangam and seek the approval from his beloved Sri Vidya (an older woman).
5. Therukoothu in Uthama Villain
The movie is a complex, philosophical poetry and Kamal Haasan plays a dying megastar wishing to complete a final film, in which he works with his mentor, director K. Balachander. For this film, Kamal Haasan did a street artist role with a fusion of Kerala's Theyyam and Tamilnadu's Koothu. Although the make up and look were inspired from Theyyam, the core concept was that of Therukoothu or Nadagam, an ancient art of storytelling with songs and dances, in Tamilnadu. Here's a glimpse:
6. Varma Kalai in Indian
Varma Kalai is an ancient art that studies the vital points in our body. The knowledge can be used in traditional massage, alternative medicine, traditional yoga and martial arts. This art was seen in Kamal Haasan's blockbuster hit Indian, in which he plays both the ex-military father and corrupt son.
Photo Credit: Hindustan Times, Rediff, Scroll India, iMDB, The MovieDB, India Today, Youtube, Behindwoods