Emphatizing with senior citizens who may not be able to hold their own in a panic buying spree, the Jaya Grocer supermarket chain has announced it will have special opening hours to cater to the group.
The chain's management made the announcement this morning, following the government's move to impose a "restriction of movement order" that will be begin today midnight, to curb the spread of the COVID-19.
"We are introducing special opening hours from 9.30am to 10am at participating outlets for elderly customers (60s and above) & their caretakers.
"This initiative is to ensure those in need can shop for their daily needs in a safe & worry-free environment," read the statement.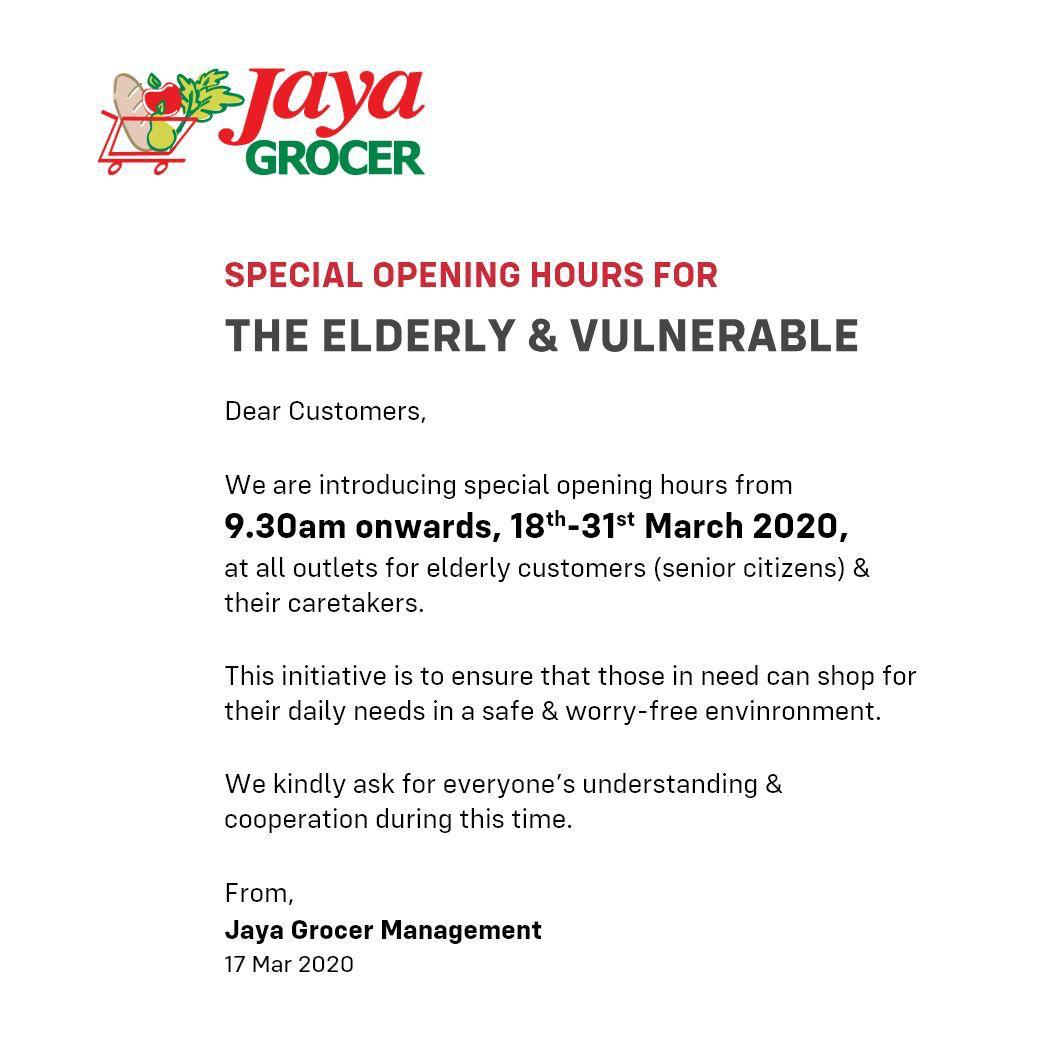 Meanwhile, Ameer Ali Mydin, the managing director of hypermarket chain Mydin, has also urged people not to resort to panic buying.
.
"Let's not do panic buying, our suppliers have assured us there is an adequate supply of essentials to meet our requirements, let's be considerate.
"We are all in this together, and we will come out of this stronger only if we work together as Malaysians. We can do it, we have the 'Malaysia Boleh' spirit, stay calm, have hope," he said in an Instagram post.
Ameer Ali also said that Mydin stores will be opened half-an-hour earlier (at 7.30am) starting tomorrow, to cater to senior citizens and the disabled.
"We know they are the most vulnerable during these difficult times so let's give them the time and space to shop, we will also open a dedicated cashier counter for them," he said.
There were cases of panic buying across the country, ahead of the announcement by Prime Minister Muhyiddin Yassin about the restricted movement order last night.
Photos are going viral on social media, showing shoppers queuing up with their trollies stuffed to the brim with necessities, such as toilet tissue rolls, and instant noodles, fearing a lockdown by the government.
Muhyiddin, in making the announcement, assured that the government will ensure that the supply of food and daily necessities do not run out, and said that supermarkets will remain open, thus, there is no need for hoarding.
Photo source: Ameer Ali Mydin Instagram, The Star.